Description
SQUEEZIENESS-RATING > SOFTER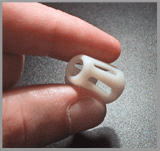 Best option for relief of chronic sinusitis, constant sinus nasal stuffiness and more severe nasal obstruction conditions:
chronic sinus / nasal congestion
sinus infections
sinusitis
sinus / nasal allergy congestion
significant nasal valve collapse
septal deviation that continually obstructs nasal airflow
habitual and loud snoring
Clinically shown to outperform oral decongestants**
---
CLINICAL RESEARCH

July 2007 Volume 99, Issue 1, Pages 59–60
Removing nasal valve obstruction in peak nasal inspiratory flow measurement
Martyn L. Barnes, MBBS
Brian J. Lipworth, MD
Asthma and Allergy Research Group, Department of Medicine and Therapeutics, Ninewells Hospital and Perth Royal Infirmary, University of Dundee, Dundee, Scotland.
BACKGROUND:
Peak nasal inspiratory flow (PNIF) measurements are used to evaluate nasal obstruction and as a surrogate for disease activity in allergic rhinitis and other nasal complaints. This measurement can give erroneous results when forced inspiration leads to nasal valve collapse.
OBJECTIVE:
To determine the effects of 2 different nasal stents (Sinus Cones and Nozovent) on valve collapse and repeatability of PNIF measurements.
METHODS:
Repeated measurements of PNIF were obtained in 74 individuals with and without 2 different nasal stents: Sinus Cones and Nozovent.
RESULTS:
The mean (95% confidence interval) improvement in PNIF was 1.7 L/min (−2.4 to 5.8 L/min; P = .42) with Nozovents and 25.4 L/min (11.4 to 39.4 L/min; P = .001) with Sinus Cones. The PNIF coefficient of variation for repeatability was 11.6% without stents, 16.0% using Nozovents, and 10.4% using Sinus Cones.
CONCLUSIONS:
Sinus Cones, but not Nozovents, significantly improved PNIF. Repeatability of PNIF measurements was worse with Nozovents and only marginally improved with Sinus Cones.