"My husband has used nasal strips for years, still didn't resolve snoring problems due to sinus compression. The Sinus Cones WORK!! I have ordered two more mediums for my husband and a set of smalls for my daughter. THANK YOU!"
Susan B., TX
How-to Video demonstrates easy insertion of Max-Air Nose Cones into the nasal airways.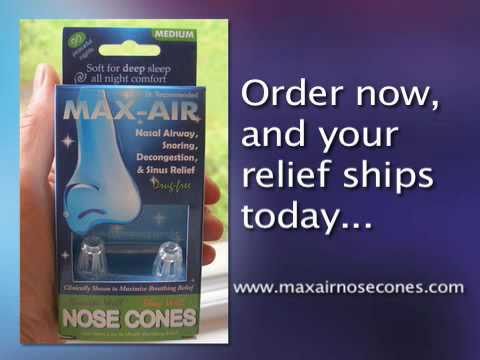 play_circle_outline
"These Nose Cones work so much better than those nasal strips…I recommend this product to anyone who wakes up with any nasal congestion on any day of the year. It's a simple yet effective method to increase your ability to breathe without taking medication."
C. Nelson, MA
Learning how to use the Max-Air Nose Cones and Sinus Cones is very straightforward and easy. Here's your check list.
When inserted, they should fit comfortably and snugly into the nasal airways.
When sized correctly and inserted properly, the Max-Air Nose Cones and Sinus Cones should create an immediate and significant improvement in nasal airflow.
When sized correctly with the appropriate product, they should stay in your nose during sleep.
PLEASE NOTE: There should never be any discomfort when wearing our uniquely soft, compliant nasal cones. Discomfort indicates that the size is too large and a smaller size is recommended.
Our nasal cones are packaged with complete written directions and illustrations. And, because they are made from soft medical materials and are ergonomically shaped, they will comfortably fit even the most challenging nasal anatomies. Max-Air Nose Cone and Sinus Cones are made for all-night, every night, stress-free breathing relief.
Max-Air Nose Cones (shown in the video) are made from our softest transparent medical material. They are best suited for relief of a deviated septum, snoring and milder airway issues that disturb sleep. MORE ABOUT MAX-AIR NOSE CONES
Sinus Cones are made from our slightly firmer, although still soft, white medical material. They are best suited for relief of chronic sinusitis and sinus nasal congestion, and more severe airway collapse issue. MORE ABOUT SINUS CONES
Max-Air Nose Cones (shown in video) or Sinus Cones can be worn connected as they are packaged, or, they may be trimmed apart, and worn separated.
Wearing the Cones separated permits greater customization for maximum fit and comfort. When there is a deviated septum involved, the deviation in the septum causes the airways to be asymmetrical or less than perfectly aligned. By wearing the Cones separately, each Cone may be adjusted and adapted for the particular angle of each nostril.
Nasal airways can also vary in size. By wearing the Cones separated, each nasal airway may be fitted with a different size, as necessary.
Each box of Cones is designed to last up to three months with every night use. There are two sets. or four Cones, of squeezie-soft n' clear Max-Air Nose Cones are packaged in each box; and, one set, or two Cones, of slightly firmer Sinus Cones are packaged in each box.
Sinus Cones shown to left > Max-Air Nose Cones shown on right.
To wear separated, trim Sinus Cones at the edge of the little clip as demonstrated above in photo or trim Max-Air Nose Cones at the corner, to leave a little "foot" at the bottom of the Cones as demonstrated in photo or video. Read More FAQs