What's the difference between Sinus Cones vs Max-Air Nose Cones?
The Sinus Cones are our original product and are soft but slightly firmer for maximum airway stenting action. They are preferred by those with chronic sinus congestion, nasal allergy congestion, allergic rhinitis, and those with constant nasal collapse.
A box of Sinus Cones contains one set of 2 Cones.
This is a better choice in nasal airway relief than the breathe strips. It's latex-free, there's no adhesive and its more effective and comfortable for me.*
– Cheryl B., Kokomo IN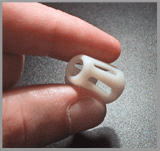 The original, soft, yet slightly firmer Sinus Cones are recommended for more SEVERE airway obstruction issues, such as nasal airway collapse or inflammatory problems such as sinusitis and chronic nasal sinus congestion.
The Sinus Cones are preferred by those who have difficulty breathing through the nose, all the time (day and night), even if you only plan to use the Sinus Cones for sleep.
THE WHITE SINUS CONES COME CONNECTED (as shown below). THEY MAY BE WORN CONNECTED OR SEPARATED (as shown above). THE SINUS CONES HAVE A LITTLE "CLIP" THAT GENTLY SECURES TO THE OUTSIDE OF THE NOSE
The Max-Air Nose Cones are our new product and are made squeezie-soft for maximum long lasting comfort. They are preferred for deviated septum, or problems that only occur when lying down, such as swollen turbinates, snoring, and mild sleep disordered breathing.
A box of Max-Air Nose Cones contains two sets of 2 Cones, or 4 Cones in total.
My husband tried the Cones and has had the best sleep in years.*
Wilma R., FL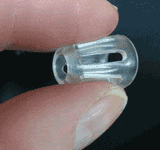 The new and improved squeezie-soft n' clear Max-Air Nose Cones are recommended for breathing relief from MILDER nighttime nasal breathing difficulties, such as milder nasal airway obstruction due from sleeping, snoring, deviated septum, and swollen turbinates.
The new Max-Air Nose Cones are preferred by those whose nasal breathing problems only occur during sleep.
THE CLEAR MAX-AIR NOSE CONES COME CONNECTED (as shown below). THEY MAY BE WORN CONNECTED OR SEPARATED (as shown above). IT IS IMPERATIVE TO LEAVE ABOUT A 1/4″ OF THE CONNECTING PIECE ON THE BOTTOM OF EACH CONE LIKE A LITTLE "FOOT" SO THAT YOU MAY EASILY INSERT, ADJUST AND RETRIEVE THE CONES.

Sinus Cones shown to left; Max-Air Nose Cones shown on right
BOTH THE SINUS CONES AND NEW MAX-AIR NOSE CONES MAY BE SEPARATED AND WORN SINGLY OR INDIVIDUALLY FOR THE BEST COMFORT AND FIT, AS NASAL AIRWAYS CAN VARY IN SIZE AND SYMMETRY.
To customize fit and comfort, simply trim the connecting piece at corners as shown. Leave the little "clip" on the Sinus Cones, and leave a little bit of the connecting piece, like a little "foot", at the bottom of the new Max-Air Nose Cones, for easy insertion, adjustment or retrieval.
In cases where only one airway is obstructed, for example with nasal valve collapse, only one Cone may be necessary.
On other occasions, especially with a deviated septum, one airway may be a different size than the other. To maximize relief, in this instance, simply order two different size Cones, trim them apart and wear one size in one airway and the other size in the other airway.
PLEASE NOTE: Each package of Max-Air Nose Cones is packed with two sets of Max-Air Nose Cones, a set includes two Cones, one for each nasal airway. The Max-Air Nose Cones' material is softer and each set lasts up to six weeks with nightly use, so the package provides a total of three months of relief.